Your Customers' Experience
Your Customers will Get up to 40% Cashback from your Reward When They Rate, Share & Make New Purchases!
No Installation is Needed & No Additional Fees
Just Cashback!
Shop Like You Normally Do!

works with thousands of stores and their affiliate programs, giving you an amazing opportunity to become nano-influencers and brand ambassadors. Your opinion matters! Simply share your recommendations on products and services. Get paid! It's that simple.
Becoming Brand Ambassadors
's AI Bot Automatically Prompts You to Rate and Share Your Purchases with Your Friends & Family
As Steve Jobs said: "Customers don't know what they want until we've shown them."

shows your friends what YOU like and lets them know whether you feel a product or service is worth it or not!
The best part? You get paid when friends and family buy based on your recommendations.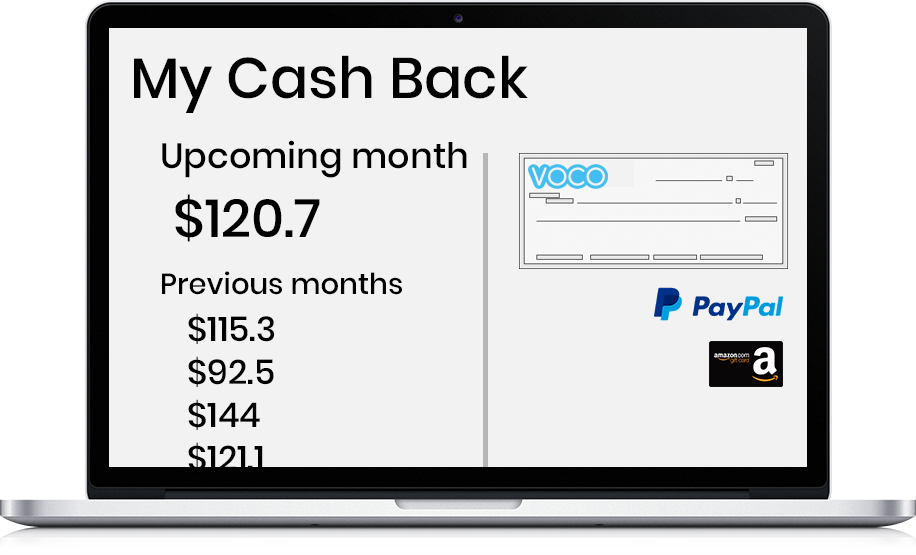 Want a Big Fat Check, PayPal Payment, or Amazon Gift Card?

tracks purchases and notifies you when your recommendations turn into purchases. We split cashbacks with you and your friends. There's no limit. Sit back and watch your cash multiply!
Ethan Cooier CTO, ABC sales
"VOCO is a unique and powerful automatic referal marketing software. To clarify, its truly captures the customers at the moment that they are most excited about their buys, Moreover, gets them to rate, share and spread the word right at that moment. They love it. We love it."
Erik Gray CEO, Baby Yoga
"In short, VOCO is an excellent way to get your customers to grow your business and get them to socially interact and at the same time."
Cora Rose, CEO, Beauty Box
"VOCO is a unique and powerful automatic referral marketing software that benefits our customers and grows our business with zero effort"